Thirteen Vegetarian and Vegan Dishes to try at Manifesto Market
Living the veggie (or vegan!) lifestyle? We are too! Manifesto is full of meat-free culinary delights and we want you to discover them all! Here we have detailed a selection of our favorite vegetarian and plant-based dishes from all our vendors and want to share.
1. Portobello Burger from Etnosvět
Our first stop comes from our Manifesto Market's resident green goddess, Kontejner by Etnosvet, with their epic portobello burger. Thick slices of grilled portobello mushrooms topped with spiced cabbage and roasted pepper mayo, giving it a smoky kick, then held together in a soft bun that melts in your mouth on first bite. Run, don't walk.
Vegetarian
2. Brie + Beetroot Pita from Etnosvět
Etnosvet does it again, this time one of our fave combos. The delicious melt-y brie complements the tangy beetroot, while the spiced chutney and mustard dressing add another layer of flavor and complexity. Add a little green rucola to contrast the flavor, makes it pretty as it is delicious. All laid nicely between two slices of homemade whole-wheat pita bread.
Tip: These are just our favorites, but you can't really go wrong with Etnosvet. Try the piadina, whole-wheat tortilla or their daily special.
Vegetarian
3. Indian Bowling from Došas
It's out with the old, in with the new as far as Ayurvedic cuisine goes, with this seasons new dosha. Došas have introduced their autumn offerings with "Indian Bowl-ing". (Still the same legendary Gary behind the concept, don't worry). We'll walk you through every delicious layer of this stacked dish (just in time for autumn). Base of pulau rice (for gluten-free option) or mashed samosa with a chickpea masala, dry roasted lentils, leeks, roasted paneer or pakora then smothered with yogurt (or coconut cream if you want to go vegan and skip the paneer) and garnished with roasted seeds, pomegranate and microgreens. It will definitely be a strike with everyone.
Vegetarian, Vegan
4. Whole Roasted Cauliflower by Kapara
Let's continue on our culinary geographical adventure around Manifesto with this Israeli favorite, hailing straight from the streets of Tel Aviv. First boiled then removed, brushed with olive oil and broiled until golden brown in Kapara's Jasper grill (it's what makes everything so tasty). Add a generous amount of tahini, tomatoes and green chillies. It is as stunningly unique as it is delicious.
Vegan
5. Falafel from Kapara
Our list would be incomplete without a nod to this plant-based favorite, delicious falafel. Kapara's take on the classic warm pita filled with tahini, tomatoes, cucumber, green chilis and deep-fried chickpea mash will whisk you away to the Middle East. You can also swap out the falafel balls with eggplant or cauliflower, or swap the pita for a falafel basket!
Vegan
6. Vegan Poké from Poké Haus
All those deliciously fresh flavors you get with traditional Hawaiian poké available completely animal product-free! There are plenty of options here to build your bowl based on your dietary needs. Sushi rice base (or fresh salad) with only the freshest of toppings - cucumber, carrot, edamame, wakame, radish - plus some sweet mango and tofu for protein! Add some nori, sesame seeds on top along with some ginger ponzu and you will feel like you are in Hawaii in no time!
Vegetarian, Vegan
7. Veggie Burger at the Craft
All your veggie burger dreams answered with the popeye burger from grill masters, The Craft! A soy patty with spinach and mushrooms topped with grilled tomatoes, and mushrooms cooked in wine and basil and smothered with a spicy habanero sauce that will clear all your chakras.
Vegan
8. Winefood Focaccia Pizza + Tapas
Our favorite Italian purveyors offer plenty of meat-free dishes and snacks that will take you on a trip around the culinary paradise spanning all of Italy. Try cicchetti, the Venetian-style tapas - mini-open faced sandwiches as elegant as Venice itself. We can't get enough of the mascarpone and fig with a balsamic reduction. Looking for vegan options? Try the focaccia pugliese, a special take on focaccia pizza from the Puglia region in southern Italy that comes freckled with grilled tomatoes and olives or caponata, or caponata - a sweet and sour sicilian salad made with baked bell peppers, eggplant, tomatoes, capers and pine nuts.
Vegetarian, Vegan
9. Gran Fierro Tapas
While we know Argentina is famous for their steak, which has no place in this article, we love that Gran Fierro's entire offering of tapas is completely meat free! Try a bit of everything - fried yuca root covered in a mojo sauce along with mashed plantain fritters, salted and grilled padron peppers, and melted provolone covered in a tomato chimichurri.
Vegetarian, Vegan
10. Faency Fries
Yes, your favorite delicious Belgian-style french fries are entirely vegetarian! Freshly cut potatoes are fried twice, exclusively in rapeseed oil, then salted to perfection. Choose from their entire selection of vegetarian sauces like chili mayo or the plum sauce (all about that salty-sweet) as well animal product-free sauces like vegan mayo. What's not to love?
Vegetarian, Vegan
11. Kulajda Soup + Spaetzle from CK Knödelrei
This take on the Czech favorite hails from the Krkonoše mountains and might even impress your grandparents. An ode to their love affair with wild mushrooms, this heart warming soup is made with potatoes, dill, kefir, and traditionally a quail egg. It's flavorful and slightly sour taste is everything we want this autumn. Follow up with some of their spaetzle with roasted spinach and fried onions and you've got yourself a hearty vegetarian meal.
Vegetarian
12. Fruit Dumplings from CK Knödelrei
A Czech tradition - sweet lunch! These delicious dumplings are smothered with strawberry purée and tvaroh (a Czech version of cream cheese) and are absolutely acceptable to enjoy for lunch. Though, you can have it for dessert too, we won't judge. We just know you will be coming back for more of these sweet treats again and again.
Vegetarian
13. Sorbet from Angelato
Sorbet by nature is always vegan - made entirely from fruit and ice. Gelato aficionados and well-loved Prague favorite, Angelato always has a selection of vegan frozen treats like mango or coconut. Stop by for their seasonal offering, changing every month. September is white wine + pear. They had us at wine…
Vegetarian, Vegan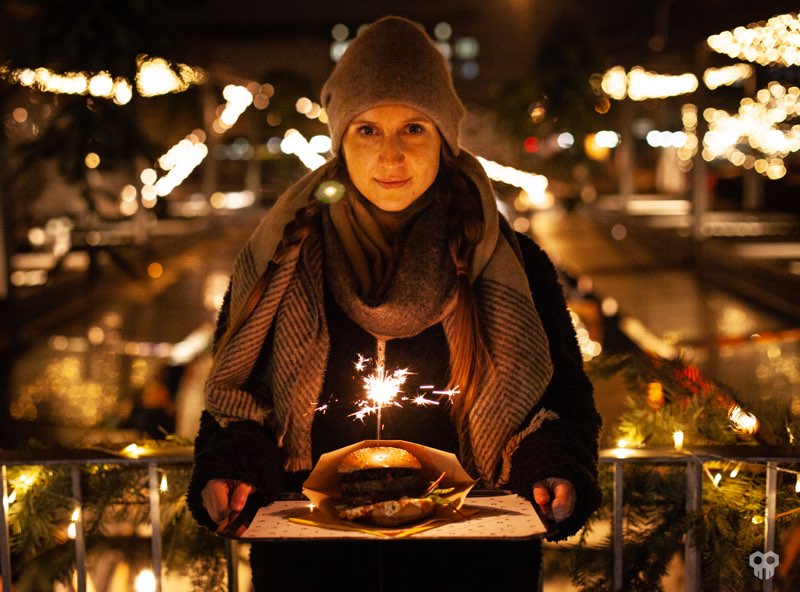 Alexandra is American photographer and writer living in Prague, who came for the views and stayed for the cheap beer. She is into sunrise walks on the bridge, cafe culture, urbanism and eating.